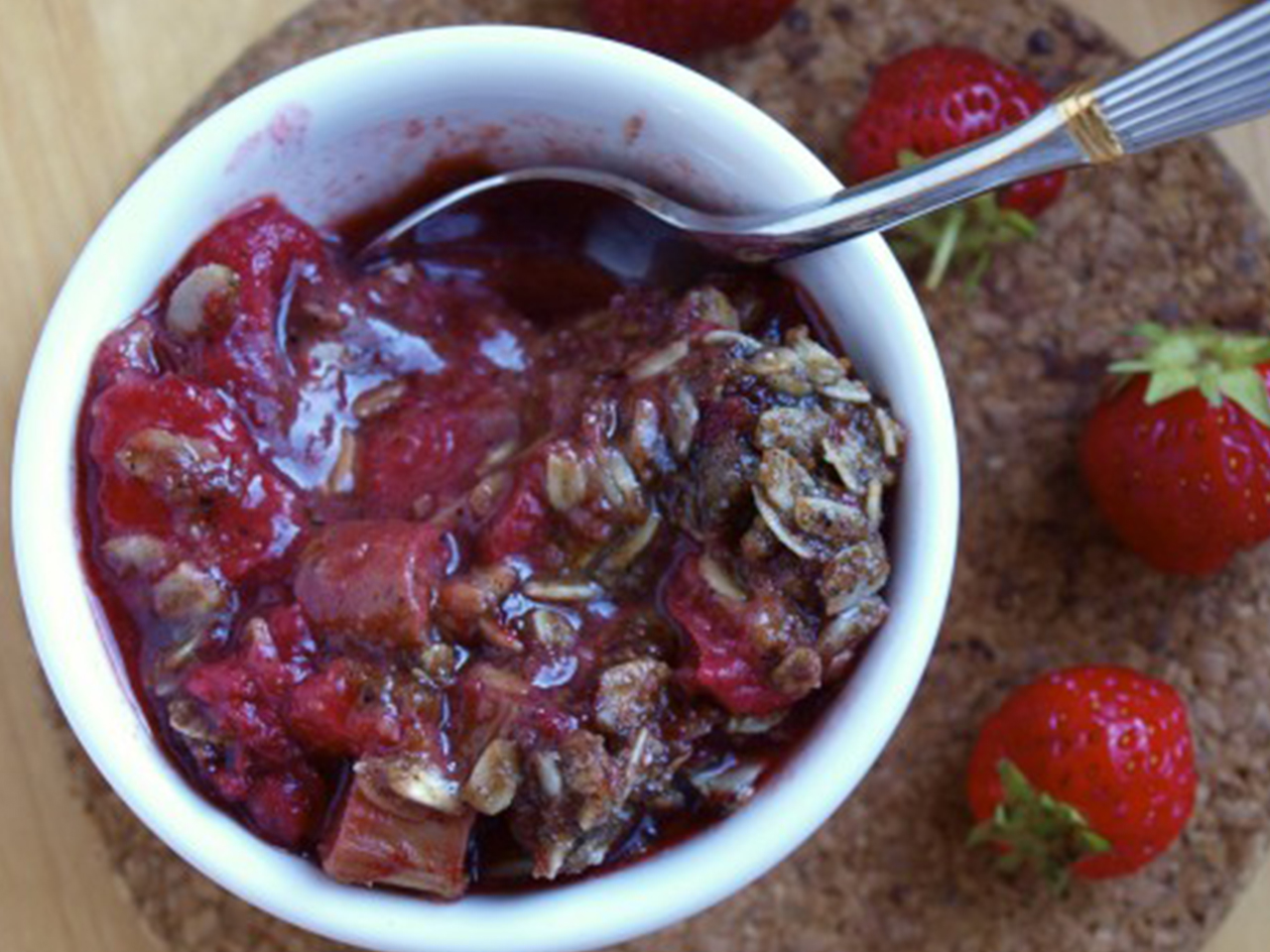 The strawberry series continues!  I really did enjoy buying an absurd amount of berries.  It inspired a lot of recipes!
This is super simple and delicious! Also, you can eat it for breakfast…and if you're super busy, you can make a bunch, freeze it, and defrost a serving in the fridge the night before for breakfast (that's how my life works, at least!).  Put some ice cream on top and it's delish as well.
It's a great source of vitamin C, fibre, and it's also pretty low sugar for a dessert (and the sugar used is low-glycemic).  This will make you feel great!
I baked this is 4 smaller pyrexes, but you could definitely make a bigger one (just keep your eye on the time, you may need more).

Strawberry Rhubarb Crumble
Author:
Lauren Breuer/Shockingly Healthy
Prep time:
Cook time:
Total time:
Ingredients
3 cups chopped rhubarb
5 cups strawberries, hulled and sliced
juice 1 lemon
1 T vanilla
1 cup oats (I used gluten-free large flake)
½ cup coconut sugar
½ cup buckwheat flour
½ t salt
½ cup coconut oil (soft)
1 T cinnamon
Instructions
Clean and prep your fruit.
Mix vanilla and lemon juice, and stir fruit in the mixture.
Spread mixture evenly in some (or one) oven safe containers, greased or parchment lined for easier access (and less dessert waste!)
In a separate bowl, stir together flour, oats and sugar, and then add in melted coconut oil, and mix till crumbly texture occurs.
Spread on top of fruit.
Bake at 375 for 35 to 40 minutes.
Allow to cool at least 5 minutes before serving.
This is light and tangy and sweet.  If you're planning on sharing, you should probably make a double batch!