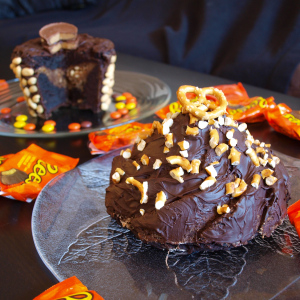 Today I will share the craziest, most delightful thing I have made.  After talking about serious stuff like getting your colourful veggies, and portion sizes, I have to mix things up!  This cake tastes like a 75% dark chocolate flourless chocolate cake, crossed with a peanut butter cup. It has no refined sugars, and lots of fiber and protein.  Most importantly: it tastes amazingly rich.  
This recipe reminds me of how I would appreciate certain BIG things when I was little.  Like The Big Apple (which you might have seen, if you've ever driven between Toronto and Montreal.  This dessert is amazing like the Gibeau Orange (Orange Julep) in Montreal, which is a giant orange.  The servers come out to your car on roller skates, it's pretty fantastic.  I doubt that place would suit my current dietary choices these days, but that's not the point.  The point is is that giant food stuff can be a little magical, and make you feel like a kid again.    I guess I'm up for one of those odd landmark road trips, it seems.  Yup.  Giant food, it makes me smile.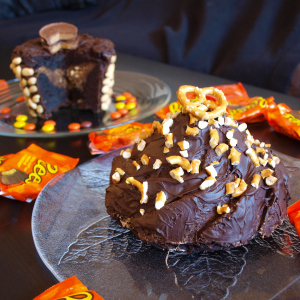 It all started when my grandma slipped me a twenty.  Sometimes she does that when I visit.  And it is my belief that when your grandma slips you a twenty, you buy something FUN.  I was all set to finally pick up some springform baking pans, as I don't have any.  But then, there it was.  The giant cupcake form.  One cake pan with space for two cakes: one that looks like the bottom of a cupcake, and one that looks like the top.  You make them, and then stack 'em together.  But I saw beyond the cupcake.  I saw something that looked like a Reese cup, and something that looked like a Hershey's Kiss.  This pan did double duty!  And that is how I met the crazy cake pan that made this recipe possible.  I realize the boom in the cupcake industry has already come and gone.  But I don't mind.  What about the boom of delicious, balanced and healthy cupcakes?  That boom happens today.
As this was the first time I made this, I was experimenting with how much batter to fill up the cupcake pan.  I went a little overboard, which is just fine, because it meant I got:
reese cup cake
hershey kiss cake
12 mini cupcakes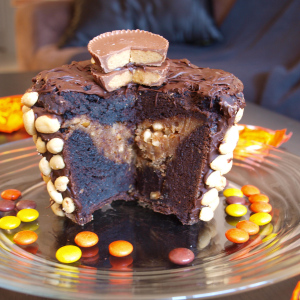 I am not complaining.  If you don't have a giant cup cake, do not fear!  As I've been adapting and trying out recipes in different moulds, I've found that as long as you follow the baking directions specified for a mould of the size you're working with, you'll be okay.  Here's the recipe!
Cake ingredients:
If you are not as insane as I am, or are not baking in preparation for a sleep over party, feel free to divide this recipe in half. 

2.5 cups dates (dry pitted)
1 cup milk (I used unsweetened almond)
4 egg whites
1 cup apple sauce
1 cup cacao powder (or cocoa powder)
1 cup ground flax seeds
1 cup spelt flour
2 cups black beans (rinsed and drained)
2 tsp. baking soda
1 tsp baking powder
pinch salt
4 tsp. vanilla
4 tsp instant espresso powder
coconut oil for greasing pan
extra flour for flouring pan
Filling ingredients:
2 medium bananas, mashed
1 cup peanut butter
Optional extras:
1/2 cup-1.5 cups chocolate chips
peanuts or other nuts
chopped pretzels
How to:
In the food processor, pulse together dates and beans.  Add a little milk after a minute or so of pulsing, to help further break down the ingredients.
In a bowl, combine all dry ingredients and mix.
Gradually add dry ingredient mixture, and wet ingredients into the food processor (as long as you run it long enough, it'll all come together)
Preheat oven to 325
Grease your pan(s)!  I used coconut oil, and then floured it.
In a separate bowl, mash your bananas (I like to use a potato masher), and then mix in the peanut butter until evenly combined.
Fill up cake mould(s) 2/3 of the way
Gently put peanut butter filling on top of layer of cake batter, spreading evenly, and leaving a 1 inch border from the edge
Top with more cake batter
Bake
Giant cupcake baking time:
75 minutes at 325
15 minutes on cooling rack
carefully remove it from the mould, and transfer to a cooling rack
Mini cupcake baking/assembling:
For the mini cupcakes, I filled each one 3/4 of the way, and then swirled in about a teaspoon of the PB filling with a toothpick
 bake 20 minutes at 325
If you want to use a different mould, like a regular cupcake, just follow typical baking times for that size.  Normally minis wouldn't bake for this long, but I had the low temperature for the big deep pan.  These turned out great!
Extra finishing touches:
This cake was definitely rich enough on it's own, but I needed to kick this up a notch.  I needed to cover it in a chocolate shell.  A dark chocolate shell.  This step needs to happen after the cake has cooled.  I melted some dark chocolate chips  in a double boiler (you could microwave), and loosely slapped it on, using a spatula.  On my "kiss" cake, you can see that I also added some pieces of pretzel to the wet chocolate.  On the reese cake, I put peanut halves on top of the chocolate coating.  This amped up the sweet/salt theme, and added a nice crunch, of course.  Then I put it in the fridge to cool.  (Keep it in the fridge, but you can wrap it once it's solidified).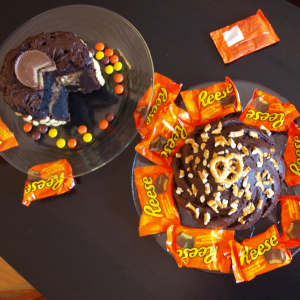 If you could have a dessert inspired by any candy or chocolate bar, what would it be?